See on Scoop.it – Leadership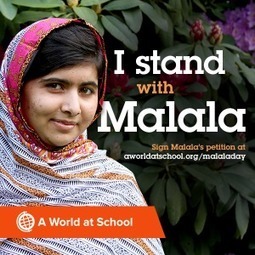 Malala Yousafzai is taking her youth education fight to the UN — and we're uniting to stand with her. Will you support her too by signing this letter to the UN Secretary-General?
Danielle Uskovic's insight:
Please support this great cause.
Dear Mr Secretary-General,
I stand with Malala in demanding that the leaders of the world end our global Education Emergency. After the recent violent murder of 14 girls in Pakistan who simply wanted an education, I support the civil rights struggle of 57 million girls and boys who will not go to school today — or any day. Side by side with Malala, we demand that at the United Nations General Assembly, world leaders agree to fund the new teachers, schools and books we need — and to end child labour, child marriage and child trafficking — so that by December 2015 we meet the Millennium Development goal promise that every boy and girl be at school.
We must be united in this fight, and we must act now. Thank you for standing with us.
See on secure.aworldatschool.org