See on Scoop.it – Sustainability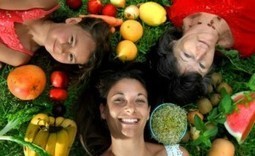 It is a known fact that one of the main benefits of consuming products from organic farming is that it prevents the consumption of toxic pesticide residues that stick on fruit and vegetable skins, which is commonly happening on products produced by conventional farming. However, there are plenty of the deeper reasons why organic farming should be practiced by farmers, especially feeding the world. In recent years, it has been proven that farmers who shifted from chemical to organic agriculture systems enjoy the higher yield of their crops. For individuals who still don't see the advantage of going organic, here's the list that could help them become inspired to consume organic foods. Chemically-treated food crops contain shampoo chemicals. A certain study revealed that the hormone-disrupting phthalates, a fragrant chemical often utilized in soaps and shampoos, are one of the main components of synthetic fertilizers that are applied to farm fields in conventional farming. Fortunately, this practice is banned in organic farming. Organic food crops thrive in untreated farm fields treated with high-quality compost, with the characteristics of crumbling, dark and earthy.Pesticide-treated food crops can make people fat. One of the common health problems faced by people today is overweight and obesity and chemically-treated food crops are one great contributing factor in these conditions. Most of the chemicals utilized in growing non-organic food are hormone disruptors, which tampers the natural weight loss chemistry of the body. Moreover, it can contribute to other health diseases, like cancer and diabetes.Factory-farmed meat makes people age fast. Factory farming is one of the increasing industries today. It is the process of raising clustered animal species in small, cramped spaces. However, this technique has been questioned by many due to its unsanitary techniques, such as chlorine baths after slaughter and injection of water and phosphate solution. These practices can increase the risk of developing chronic kidney disease and premature aging. Thus, it is better to purchase organic meat produced by a local farmer.Organic farms can improve rural economy. Although the reliance on fertilizers and machinery enables farms to grow in size while lessening the workload, it still isn't the winning formula for farmers. Several studies revealed that organic farming can be thrice as profitable as the chemical agriculture systems. Moreover, it also provides more jobs per hectare than nonorganic farms.
Danielle Uskovic's insight:
It's time for more people to start buying organic. The benefits are amazing.
See on www.organicfarmingblog.com